1.Standard: ASTM A53,BS1387-85,GB/T3091-08,DIN2440,JIS-G3444,EN10255
2.Grade: Q195, Q215, Q235, Q345, S235JR, S275JR, STK400, STK500
3.Type & Zinc Coating: 
   Hot dip galvanized steel pipe (zinc coating: 60g/m2-275g/m2)
   Pre-painted galvanized steel pipe (zinc coating: 80g/m2-275g/m2)
4.Outside diameter: 
    Round pipe: 17mm-273mm
    Square pipe:15mm x 15mm - 400mm x 400mm
    Rectangular pipe: 10mm x 20mm -200mm x 400mm
5.Wall thickness: 
    Round pipe: 0.6mm-12mm
    Square pipe:0.6mm-20mm
    Rectangular pipe: 0.6mm-20mm
6.Length:2m-5.8m/6m/12m ( We can adjust length according to your request)
7.Application: can be used for carrying water or used as scaffolding frames.
8.Packaging: Standard export seaworthy packing.
9.Test: Chemical Component Analysis, Mechanical Properties (Ultimate tensile strength, Yield strength, Elongation), Technical Properties (Flattening Test, Flaring Test, Bending Test, Hardness Test, Blow Test, Impact Test etc), Exterior Size Inspection.

Detailed Information of Galvanized Steel Pipe: 
Types of Material

Hot dip galvanized steel pipe/ Pre-painted galvanized steel pipe

Shape

Round Pipe

Square pipe

Rectangular pipe

Standard

ASTM A53,BS1387-85,GB/T3091-08,DIN2440,JIS-G3444,EN10255

Outside Diameter

17mm-273mm

15mm x15mm-400mm x400mm

10mm x 20mm-200mm x 400mm

Wall thickness

0.6mm-12mm

0.6mm-20mm

0.6mm-20mm

Length

2m-5.8m/6m/12m or as your request

Zinc Coating

Hot dip galvanized steel pipe:60g/m2-150g/m2 /Pre-painted galvanized steel pipe:200g/m2-400g/m2
Here are some of the information for you to help you choose and use Galvanized Steel Pipe:
1. Can be used for carrying water: it is covered with a zinc material to make the steel pipe more resistant to corrosion. The primary use of galvanized pipe is to carry water to homes and commercial buildings. The zinc also prevents the buildup of mineral deposits that can clog the water line. 
2. Commonly used as fencing, scaffolding frame, heating, ventilation and air conditioning (HVAC) on both commercial and residential areas; it can also be used in bridgework and business to make handrail and guardrail, because of its resistance to corrosion, and the strength and durability.
3. Costs more than black steel pipe because of the zinc coating and manufacturing process involved in producing galvanized pipe. 
4. Lifetime up to 40 years: because of its extremely rigid and strong, it has a lifespan of up to 40 years. 
5. Cannot be used for carrying gas: because the zinc on galvanized pipe flakes off over time, clogging the pipe. The flaking can cause the pipe to burst. 
6. Cannot be used underground: it is not ideal for underground use.



Stock Make Us Have Timely Delivery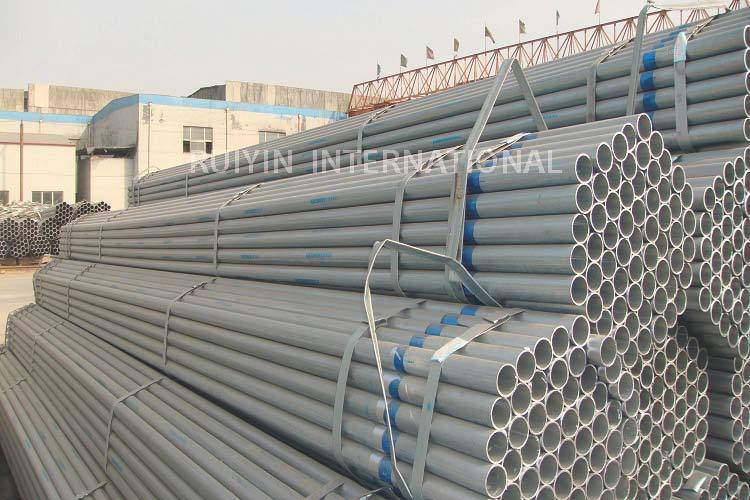 For Further Information Please Contact Me.