SLS POWDER
General information
Sodium lauryl sulfate 93% white powder.
It has perfect cleaning, emulsifying and foaming ability, with affluent and longstanding foam, innocuity and good biodegradation. It is used as the detergent for heavy dirty to wash carpet, dishware and hard surface. By adding other types of additive, its irritation activity will be ameliorated, degreasing power reduced, hand feeling enhanced.       
 Chemical name: sodium lauryl sulfate
 State: powder
 CAS number:151-21-3
 Quality: FCC IV
 Chemical structure: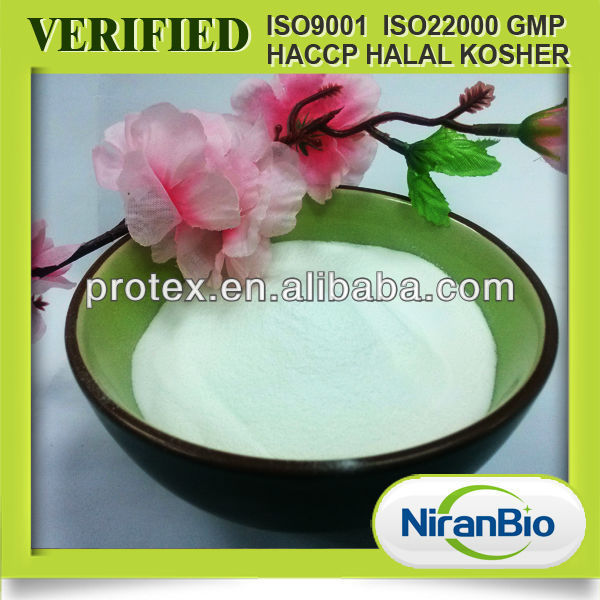 Sodium dodecyl sulfate (SDS or NaDS), sodium laurilsulfate or sodium lauryl sulfate (SLS) is an organic compound with the formula CH3(CH2)11OSO3Na. It is an anionic surfactant used in many cleaning and hygiene products. The salt is of anorganosulfate consisting of a 12-carbon tail attached to a sulfate group, giving the material the amphiphilic properties required of a detergent. Being derived from inexpensive coconut and palm oils, it is a common component of many domestic cleaning products.
Sodium coco-sulfate is essentially the same compound, but made from less purified coconut oil.
Packing

Shelf life

Application

Transport regulation

Storage

200kg/Plastic drum

16T/20'FCL

Two Years

used in shampoo, bubble bath, 

hand cleaner, 

and the lather agent of toothpaste, 

cream or powder shampoo

Non dangerous good in 

the sense of transport

 regulations

Stored in Shielded from light,

dry and cool palce



SDS is mainly used in detergents for laundry with many cleaning applications. SDS is a highly effective surfactant and is used in any task requiring the removal of oily stains and residues. For example, it is found in higher concentrations with industrial products including engine degreasers, floor cleaners, and car wash soaps. It is found in toothpastes, shampoos,shaving creams, and bubble bath formulations in part for its thickening effect and its ability to create a lather. Pepsodent toothpaste at one time used the name "Irium" for its sodium lauryl sulfate ingredient.
SDS is synthesized by treating lauryl alcohol with sulfur trioxide gas, oleum, or chlorosulfuric acid to produce hydrogen lauryl sulfate. The industrially practiced method typically uses sulfur trioxide gas. The resulting product is then neutralized through the addition of sodium hydroxide or sodium carbonate. Lauryl alcohol is in turn usually derived from either coconut or palm kernel oil by hydrolysis, which liberates their fatty acids, followed by hydrogenation.
Due to this synthesis method, commercial samples of SDS are often a mixture of other alkyl sulfates, dodecyl sulfate being the main component.
SDS is available commercially in powder and pellet forms. It seems the pellet form dissolves faster than the powder form in water.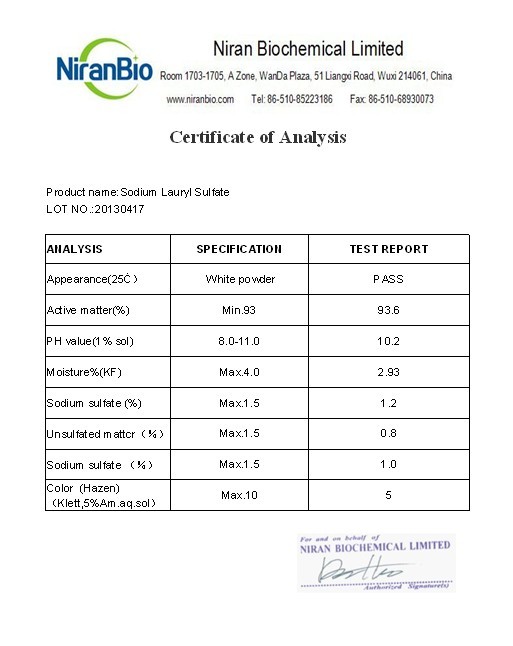 Remark: SLS liquid 30% (as following, packed in 100kg or 200kg drum) is as available,if you 're interested in our products,please don't hesitate to contact us.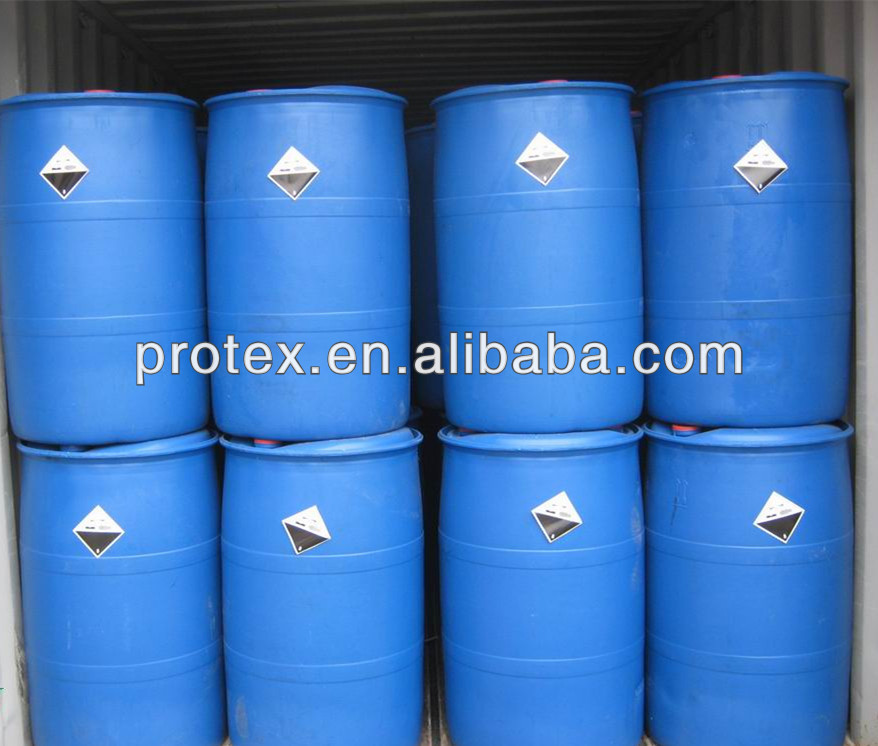 Welcome to visit us!
China office:Rm.1703, Wanda Plaza A Zone,51 Liangxi Rd, Wuxi,China 214061
Tel:+86 510 85229221     Fax:86 510 68930073     M.P:86-15895360754
Contact person : Emily   ( sales)
Trademanager:cn1000689724
Skype:niranbio6    qq:2355640578