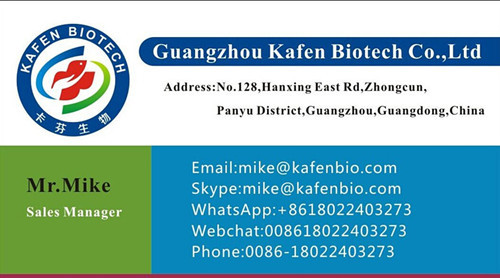 No Side Effect Pharmaceutical Raw Materials Atorvastatin Calcium 134523-03-8
Basic info:
Atorvastatin Calcium
CAS: 134523-03-8
MF: C66H68CaF2N4O10
MW: 1155.36
Purity: 99%min.
FREE SAMPLES can be sent on request!
Storage: Stored in cool and dry place, keep away from strong light/heat.
Shelf Life: 2 years when properly stored.
Color:White crystalline powder
Description:
Atorvastatin calcium is a white to off-white crystalline powder that is insoluble in aqueous solutions of pH 4 and below. Atorvastatin calcium is very slightly soluble in distilled water, pH 7.4 phosphate buffer, and acetonitrile, slightly soluble in ethanol, and freely soluble in methanol.
Function:
Used for primary hypercholesterolemia, combined hyperlipidemia or diet control invalid for patients with familial hypercholesterolemia.
Related Products:
| | | |
| --- | --- | --- |
| Testosterone Acetate | Trenbolone Acetate | MGF |
| Testosterone Cypionate | Trenbolone Enanthate | PEG MGF |
| Testosterone Decanoate | Boldenone Acetate | CJC-1295 |
| Testosterone Enanthate | Boldenone undecylenate | CJC-1295 DAC |
| Testosterone Isocaproate | Boldenone Cypionate | PT-141 |
| TestosteronePhenylpropionate | Boldenone Propionate | Melanotan-1 |
| Testosterone Propionate | Nandrolone Decanoate | Melanotan-2 |
| Testosterone Undecanoate | Nandrolone phenylpropionate | GHRP-2 |
| Mesterone | Nandrolone undecylate | GHRP-6 |
| Testosterone Sustanon 250 | Nandrolone cypionate | Ipamorelin |
| Clostebol Acetate | Nandrolone propionate | Hexarelin |
| Methylandrostanolone | Methyltrienolone | Sermorelin |
| Methenolone Enanthate | Drostanolone Propionate | Oxytocin |
| Methenolone Acetate | Drostanolone Enanthate | TB500 |
| Anadrol | Stanolone | Fragment 176-191 |
| Anavar | Tadalafil | Triptorelin |
| Winstrol | Vardenafil | Tesamorelin |
| Clomifene citrate | Dianabol | Gonadorelin |
| Toremifene citrate | Tamoxifen Citrate | DSIP |
| Finasteride | Dapoxetine hydrochloride | Selank |

Hot Steroids List:
| | |
| --- | --- |
| Testosterone Acetate | Trenbolone Acetate |
| Testosterone Cypionate | Trenbolone Enanthate |
| Testosterone Decanoate | Boldenone Acetate |
| Testosterone Enanthate | Boldenone undecylenate |
| Testosterone Isocaproate | Boldenone Cypionate |
| TestosteronePhenylpropionate | Boldenone Propionate |
| Testosterone Propionate | Nandrolone Decanoate |
| Testosterone Undecanoate | Nandrolone phenylpropionate |
| Mesterone | Nandrolone undecylate |
| Testosterone Sustanon 250 | Nandrolone cypionate |
| Clostebol Acetate | Nandrolone propionate |
| Methylandrostanolone | Methyltrienolone |
| Methenolone Enanthate | Drostanolone Propionate |
| Methenolone Acetate | Drostanolone Enanthate |
| Anadrol | Stanolone |
| Anavar | Tadalafil |
| Winstrol | Vardenafil |
| Clomifene citrate | Dianabol |
| Toremifene citrate | Tamoxifen Citrate |
| Finasteride | Dapoxetine hydrochloride |
| More | More |

Semi Finished Steroids Solution:
| | |
| --- | --- |
| Testosterone Enanthate(Primoteston) | 250mg/ml / 300mg/ml |
| Testosterone Propionate | 100mg/ml |
| Testosterone Cypionate | 250mg/ml / 300mg/ml |
| Testosterone Sustanon 250 | 200mg/ml / 250mg/ml |
| Testosterone Supertest 450 | 450mg/ml |
| Nandrolone Decanoate (DECA) | 200 / 250 / 300mg/ml |
| Trenbolone Acetate | 100mg/ml |
| Trenbolone Enanthate(parabola) | 200mg/ml |
| Drostanolone Propionate (Masteron) | 100mg/ml |
| Boldenone Undecylenate (Equipoise) | 200mg/ml / 300mg/ml |
| Methenolone Acetate (Primobolone) | 100mg/ml |
| Anomass | 400mg/ml |
| Ripex | 225mg/ml |
| Tritren | 180mg/ml |
| More | More |

Related Peptides:
| | |
| --- | --- |
| Peptides List | Specification |
| MGF | 2mg |
| PEG MGF | 2mg |
| CJC-1295 with DAC | 2mg |
| CJC-1295 without DAC | 2mg |
| PT-141 | 10mg |
| MT-1(Melanotan-1) | 10mg |
| MT-2(Melanotan-2) | 10mg |
| GHRP-2 | 5mg |
| GHRP-2 | 10mg |
| GHRP-6 | 5mg |
| GHRP-6 | 10mg |
| Ipamorelin | 2mg |
| Hexarelin | 2mg |
| Sermorelin | 2mg |
| Oxytocin | 1g/2mg |
| TB500 | 2mg |
| pentadecapeptide BPC 157 | 2mg |
| Triptorelin | 2mg |
| Tesamorelin | 2mg |
| Gonadorelin | 2mg |
| Gonadorelin | 10mg |
| DSIP | 2mg |
| Selank | 5mg |
| Epitalon | 10mg |
| AOD-9604 | 2mg |
| ACE 031 | 1mg |
| GDF-8 | 1mg(-20ºC) |
| Thyrotropin TRH | 1g |
| Follistatin 315 | 1mg(-20ºC) |
| Follistatin 344 | 1mg(-20ºC) |
| Deslorelin | 20mg |
| Adipotide | 2mg |
| | |
| --- | --- |
| Alarelin Acetate | 79561-22-1 |
| Angiotensin Acetate | 58-49-1 |
| Argpressin Acetate | 113-79-1 |
| Aviptadil Acetate | 40077-57-4 |
| Bivalirudin Trifluoroacetate | 128270-60-0 |
| Deslorelin Acetate | 57773-65-6 |
| Desmopressin Acetate | 16679-58-6 |
| Eledoisin Acetate | 69-25-0 |
| Eptifibatide Acetate | 148031-34-9 |
| Felypressin Acetate | 56-59-7 |
| GLP-1 (7-37) Acetate | 106612-94-6 |
| Taspoglutide | 275371-94-3 |
| Glucagon Hydrochloride | 16941-32-5 |
| Lixisenatide | 320367-13-3 |
| Gonadorelin Acetate | 34973-08-5 |
| Leuprorelin Acetate | 53714-56-0 |
| Lysipressin Acetate | 50-57-7 |
| Nafarelin Acetate | 76932-56-4 |
| Octreotide | 79517-01-4 |
| Ornipressin Acetate | 3397-23-7 |
| Secretin Acetate | 108135-74-8 |
| Somatostatin Acetate | 38916-34-6 |
| Splenopentin Acetate | 105184-37-0 |
| Terlipressin Acetate | 14636-12-5 |
| Teriparatide Acetate | 52232-67-4 |
| Triptorelin Acetate | 57773-63-4 |
| Vasopressin Acetate | 9034-50-8 |
| Bate-Amyloid(1-42)human | 107761-42-2 |
| Abarelix Acetate | 183552-38-7 |
| Endothelin-1 Acetate | 117399-94-7 |
| CRF (human, rat) Acetate | 86784-80-7 |
| CRF (ovine) Trifluoroacetate | 79804-71-0 |
| Dynorphin A (1-13) Acetate | 72957-38-1 |
| Enfuvirtide Acetate (T-20) | 159519-65-0 |
| Fertirelin Acetate | 38234-21-8 |
| GRF (human) Acetate | 83930-13-6 |
| Liraglutide | 204656-20-2 |
| Dalmarelin Acetate | 61012-19-9 |
| Nesiritide Acetate (BNP-32) | 114471-18-0 |
| Pramlintide Acetate | 196078-30-5 |
| Salmon Calcitonin Acetate | 47931-85-1 |
| tesamorelin | 106612-94-6 |
| Tetracosactide Acetate (ACTH 1-24) | 16960-16-0 |
| Thymosin α1 Acetate | 14636-12-5 |
| Thymosin β4 Acetate | 77591-33-4 |
| Atosiban Acetate | 90779-69-4 |
| Cetrorelix Acetate | 130143-01-0 |
| Exenatide Acetate | 141732-76-5 |
| Histrelin Acetate | 76712-82-8 |
| Taltirelin Acetate | 103300-74-9 |
| Vapreotide Acetate | 116430-60-5 |
| Gonaderelin | 33515-09-2 |
| Cecropin B | 80451-05-4 |
| Oxytocin Acetate | 50-56-6 |
| Sincalide | 25126-32-3 |
| Protirelin | 24305-27-9 |
| Ganirelix acetate | 123246-29-7 |

SARMs:
Ostarine (MK-2866)
CAS: 841205-47-8
Cardarine (GW-501516)
CAS: 317318-70-0
Andarine (S4)
CAS: 401900-40-1
Ligandrol (LGD-4033)
CAS: 1165910-22-4
Ibutamoren (MK-677)
CAS: 159752-10-0
RAD140
CAS: 118237-47-0
SR9009
CAS: 1379686-30-2
YK11
CAS: 431579-34-9
More

Sex Enhancers:
| | |
| --- | --- |
| Avanafil | CAS: 330784-47-9 |
| Vardenafil | CAS: 224785-91-5 |
| Dapoxetine | CAS: 119356-77-3 |
| Tadalafil | CAS: 171596-29-5 |
| Vardenafil Hydrochloride | CAS: 431579-34-9 |
| Dapoxetine Hydrochloride | CAS: 431579-34-9 |
| Yohimbine Hydrochloride | CAS: 65-19-0 |

APIs:
| | |
| --- | --- |
| T3 | CAS: 55-06-1 |
| T4 | CAS: 51-48-9 |
| Ethyl Oleate(EO) | CAS: 111-62-6 |
| Benzyl Alcohol (BA) | CAS: 100-51-6 |
| Benzyl Benzoate (BB) | CAS: 120-51-4 |
| Grape Seed Oil (GSO) | CAS: 85594-37-2 |
| 2,4-Dinitrophenol (DNP) | CAS: 51-28-5 |
| 1,3-Dimethylpentylamine (DMAA) | CAS: 13803-74-2 |
| 4-Acetamidophenol (Paracetamol) | CAS:103-90-2 |
| Tauroursodeoxycholic Acid (TUDCA) | CAS: 14605-22-2 |
| Dextromethorphan Hydrobromide (DXM) | CAS: 6700-34-1 |