Our company produces various types of engine crankshafts, in detail please send a mail consultation

The crankshaft is the most important part of the engine. It bears the force transmitted by the
connecting rod and turns it into torque to output through the crankshaft and drive the other
accessories on the engine. The crankshaft is subjected to the combined action of the centrifugal
force of the rotational mass, the inertia force of the periodic change and the reciprocating inertia
force, so that the crankshaft is subjected to the bending torsion load. Therefore, the crankshaft is
required to have sufficient strength and stiffness, and the neck surface needs to be wear-resistant,
uniform and well balanced.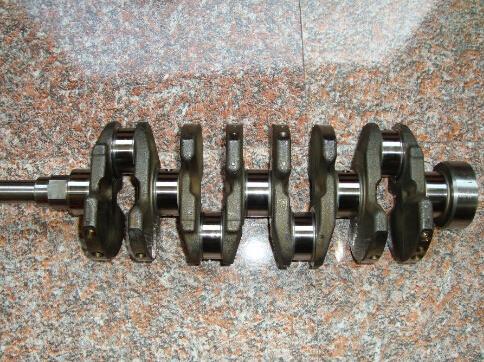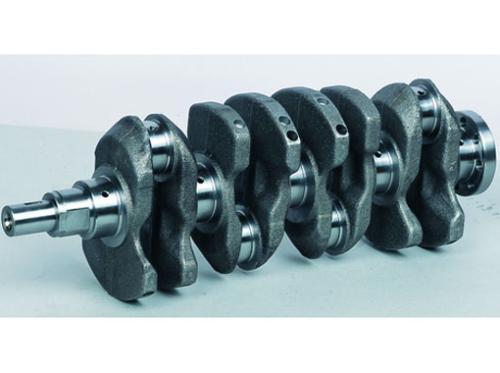 The key to the production of high quality ductile iron is the acquisition of high temperature and low
sulfur pure iron. In China, the main production equipment is the cupola, and the iron water is not
pretreated by desulphurization, and the second is the high purity of raw iron and the poor quality of
coke. The molten iron is melted by a cupola. It is desulphurized by the furnace and then heated in
the induction furnace and the composition is adjusted. A vacuum direct reading spectrometer has
been widely used to detect the composition of molten iron in China.
The air impact molding process is superior to the clay sand molding process, and the crankshaft
castings with high accuracy can be obtained. The sand moulds made by the process have the
characteristics of no rebound deformation and so on, which is especially important for multi crank
crankshafts. A number of crankshaft manufacturers in China have introduced air impact molding
technology from Germany, Italy and Spain. However, only a few manufacturers have introduced the
The electroslag remelting technology is applied to the production of crankshaft, so that the
performance of the cast crankshaft may be comparable to that of the forging. It has the
characteristics of fast development cycle, high utilization rate of metal, simple equipment and
superior product performance.

In hot forging press, electro hydraulic hammer for automatic line host is the development direction
of the crankshaft forging production, the production line will be widely used in precision shearing
blanking roll forging billet (Xie Hengzha), medium frequency induction heating, finishing machine
hydraulic press and other advanced technology, at the same time with the manipulator, conveyor
belt, back to change die device and other auxiliary table, the formation of flexible manufacturing
system (FMS). Through FMS, the workpiece and die can be replaced automatically and the
parameters are adjusted automatically, and it is continuously measured during the working process.
The data of the thickness and maximum pressure of the forgings are displayed and recorded and
compared with the fixed value, and the optimal amount of deformation is selected to obtain the
high quality products. The whole system is monitored by the central control room to realize the
unmanned operation. The forging of the crankshaft with the forging method has the full fiber of the
inner metal flow line, which can increase the fatigue strength by more than 20%.