Our company customize the production of all kinds of springs. Please send Email to consult us for details.
According to the nature of the force, the spring can be divided into tensile spring, compression
spring, torsion spring and the bending spring, can be divided according to the shape of disc spring,
ring spring, plate spring, helical spring, conical spiral spring and torsion bar spring, according to the
production process can be divided into cold and hot spring coil spring rolls. The common cylindrical
spring is the most widely used because it is simple in manufacture and can be made in various types
according to the loading condition. Generally speaking, the manufacturing materials of spring
should have high elastic limit, fatigue limit, impact toughness and good heat treatment
performance. Carbon spring steel, alloy spring steel, stainless spring steel and copper alloy, nickel
alloy and rubber are commonly used. Manufacturing method of spring cold roll and hot roll method.
Spring wire diameter less than 8 mm cold roll the general law, greater than 8 mm by coil method.
Some spring also forced or shot peening after being produced, can improve the bearing capacity of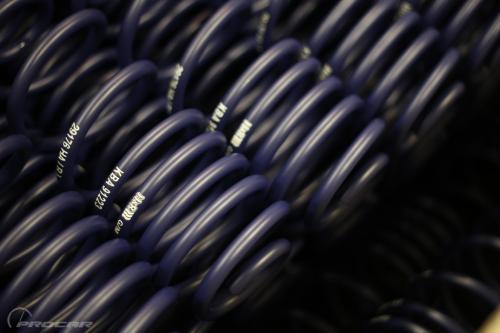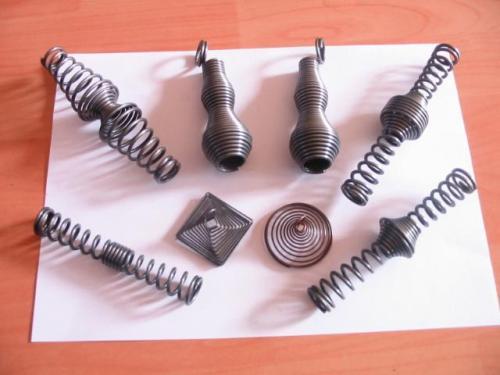 What should be paid attention to is: 1, the supporting ring can be used for cold and heat and two
methods according to the requirements of the product. Using heat and does not allow the spring
heating to spark or white - steel temperature not higher than 850 DEG C. The supporting ring should
be effectively contacted with the effective ring, and the gap should not exceed 10% of the nominal
gap between the rings. 2. The multiple spring characteristics can be determined by the adjustment
guide, and the distance of the cable can be adjusted. The wring distance may be 3~14 times the
diameter of the steel wire, but generally it is better to take 8~13 times. The spring force is also
closely related to the free height, the end ring, the outer diameter and the property of the steel wire,
and can be changed by adjusting one or several of the items. Spring and spring wire diameter 3, with
meticulous support ring should not be welded spring head, but the end of the cable should not have
obvious loose, should go to burr.